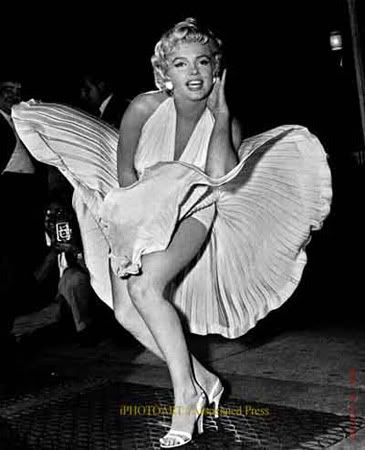 Ok so we're not as hot as Marilyn Monroe in her skirt feat. Personally, I don't really wear skirts, but I adore them.
From a not-always-on-a-skirt point of view, here are some...uhm opinions on girls who do wear them all the time:
1. I think you should wear either a pair of tight shorts or hosiery underneath it. Especially if you're not really comfortable showing your legs.
2. Do not wear light and flowy skirts (as shown in the image) if you're gonna take the bus and walk to work. It will just get blown by the wind, and you'll just end up holding it down all throughout your walk. Which, by the way, looks really, really awkward.
3. Do not wear pencil-cut skirts that are too tight around your legs. You would look like a mummy trying to walk.
4. Do not wear mini-skirts and micros if you're just gonna pull them down to avoid showing "too much". Just wear what you can pull off.
5. If you're gonna wear a mini-skirt, I think you should not pair it with a low-neckline top. That's leaving nothing to imagination.
Well you don't have to listen to someone who doesn't wear skirts LOL.. Just a share of thoughts. :)