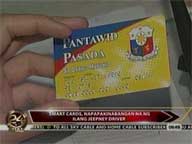 Last May 1, public transportation drivers received a fuel smart card from the government. The Public Transport Assistance Program (PTAP), or "Pantawid Pasada" program is said to cover more than 210,000 jeepneys nationwide.
According to Energy Secretary Jose Rene D. Almendras, each smart card would be pre-loaded with P1,050, equivalent to a fuel assistance of P35 per day for one whole month. (
Read the news article here.
)
My question is, bakit di na lang binigay sa fuel companies yung pera para maibaba nila yung presyo ng fuel? That way, everyone would benefit, public and private drivers. I mean instead of spending money on printing the smart cards, they could've just used the money on something else! And how can we be sure that all of the program budget was actually spent on the program (if you know what I mean)??
I'm not a political person. Pero sa tingin ko, dapat mas pinagisipan pa tong program na to.